IMAGINE YOU ARE SCARED SHITLESS? EVER BEEN TERRIFIED???????????? EVER SEEN TERROR IN YOUR CHILDS EYES? NOW THINK ABOUT EVERY FUCKEN ANIMAL THAT HAS NO VOICE .. CAN'T SCREAM AND GOES THROUGH THIS SOBER.. AND FULLY AWAKE..
DIES IN UTTER AGONY..........
IS POPCORN WORTH THAT? I THINK NOT.
NOW ASK YOURSELF.. WHAT WOULD YOU DO? HOW THE FUCK WOULD YOU FEEL?
INDESCRIBABLE RIGHT?
AND WHEN THE HELL DO YOU SEE TIGERS GO THROUGH FLAMES IN THE WILD?
"DON'T TOUCH THEM.. HURT THEM"
THATS WHAT YOUR BRINGING YOUR KIDS TO???????????????????????????????????????????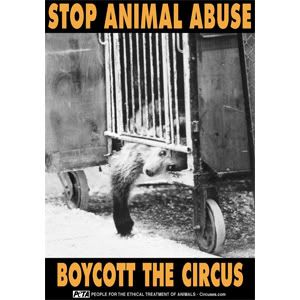 THESE ASSHOLES! These are beautiful animals.. WHERE'S THE COMPASSION IN THE FUCKING WORLD? HOW DO YOU BEAT THESE ANIMALS INTO FUCKEN SUBMISSION AND NOT CARE?
ONE THING PEOPLE SHOULD KNOW IS MOST ABUSERS AND SERIAL KILLERS USUALLY PRAY ON ANIMALS FROM A YOUNG AGE...............
The horrific things I want to do to these people. Beating animals into submission? taking them out of their habitat? Are you serious? where did these people loose their soul?
Ladies and gentlemen, boys and girls, children of all ages, step right up and see the cruelest show on earth. Ringling Bros. and Barnum & Bailey proudly present timid tigers, exploited elephants and abused exotic animals tamed, tortured and terrified for your amusement.
Unfortunately, many circus-goers will likely never hear about the cruelty toward animals that regularly occurs behind the scenes at the Ringling Bros. Circus.
People for the Ethical Treatment of Animals (PETA), the American Society for the Prevention of Cruelty to Animals (ASPCA), the Humane Society and others oppose Ringling Bros.' cruel mistreatment of animals. Every Aggie should join in by boycotting the circus while they are on campus.
"We do have a campaign against circuses that use animals in general, but specifically Ringling Bros. because they are one of the worst abusers of animals in the entertainment industry," Rice said. "Ringling Bros. has been responsible for the deaths of
24 elephants in their care
, only one of which can be attributed to old age."
Rice went on to explain that there are currently several federal investigations into the circus for cruelty or negligence.
"Ringling Bros. is under investigation for the 2004 death of a two-year-old lion named Clyde, who died of heat exhaustion in an overheated boxcar while traveling across the Mohave Desert," he said.
Another investigation concerns the use of the
bullhook, a long metal bat with a hook at the end, in elephant training. The instrument is used to coerce and intimidate elephants into doing the tricks.
"Because the performances are based on what the animals do during play and socialization, training is simply a matter of encouraging the elephants to do what comes naturally on cue to music," according to the Ringling Bros.' Web site. "We accomplish that by reinforcing their natural behaviors through repetition and reward."
Nothing could be further from the truth.
Elephants do not take each other by the tail and parade around, and there are certainly no elephants in the wild wearing party hats and standing on giant stools
. Nothing is more unnatural than the tricks elephants perform in the circus. Positive reinforcement would never be able to achieve this type of behavior.
The only way to get this behavior from a wild animal is with intimidation and physical punishment.

"Ringling Bros. is under investigation for the 2004 videotaped beating of an 8-year-old elephant named Angelica," Rice said.
The video shows the elephant chained by all four legs and being beaten and jabbed as it screams in pain. It is one of many videos on PETA's Web site depicting such violence.
Bringing wild animals around the country in boxcars and forcing them to do tricks for our amusement is a sad relic of a time long passed.
Many modern and successful circuses, like Cirque de Soleil, rely on the talents of human performers rather than the exploitation of animals. Ringling Bros. needs to do the same. Aggies can help send that message and put an end to this horrible abuse by boycotting the Ringling Bros. and Barnum & Bailey Circus.
Now this is awesome and beautiful.. an alternative to Circus's
Cirque du Soleil