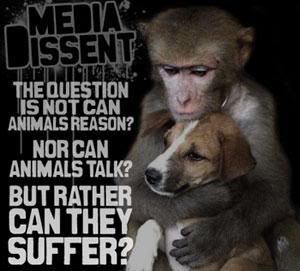 Disclaimer
The contents of this website are for information purposes only. They should not be used to commit any criminal acts or harassment. Names and/or facts published in the Animal Voice blog have the sole purpose of informing members of the public about the current situation related to animal conditions - in order to allow people to voice their concerns and carry out protests in a legal manner. Once again: Nothing contained on this website is intended to encourage or incite illegal acts.

AHHHH I just had to let all this shit out. I am practicing spiritual elevations, positive energy, universal guidance and the study of energy healing.. Your thoughts become your environment..
So below I state my opinions very fucken clear.. I don't hold back. I don't mean to offend.. If you eat meat.. no your not going to hell or think I hate you cause I don't lol. I'm not closed minded.
I'm just stating the facts, and exposing shit I think people need to be aware, it's THEIR choice what they choose to take away from it.
I think alot of Animal Issues have a really bad stereo-type.. of course negative is easier to digest and manifest then positive. I also understand some may shun away from the graphic videos and pictures, it's easy to turn away and ignore it. I don't fault anyone for that, it's not something you want to think about.. but it's real, it exists and for those that want to be part of the solution or the problem, well it's up to them.
Global Warming is a huge issue but we as Humans are not helping...
I cry more and more every time I see the picture.
IMAGINE YOU ARE SCARED SHITLESS? EVER BEEN TERRIFIED???????????? EVER SEEN TERROR IN YOUR CHILDS EYES? NOW THINK ABOUT EVERY FUCKEN ANIMAL THAT HAS NO VOICE .. CAN'T SCREAM AND GOES THROUGH THIS SOBER.. AND FULLY AWAKE..
NOW ASK YOURSELF.. WHAT WOULD YOU DO? HOW THE FUCK WOULD YOU FEEL?
INDESCRIBABLE RIGHT?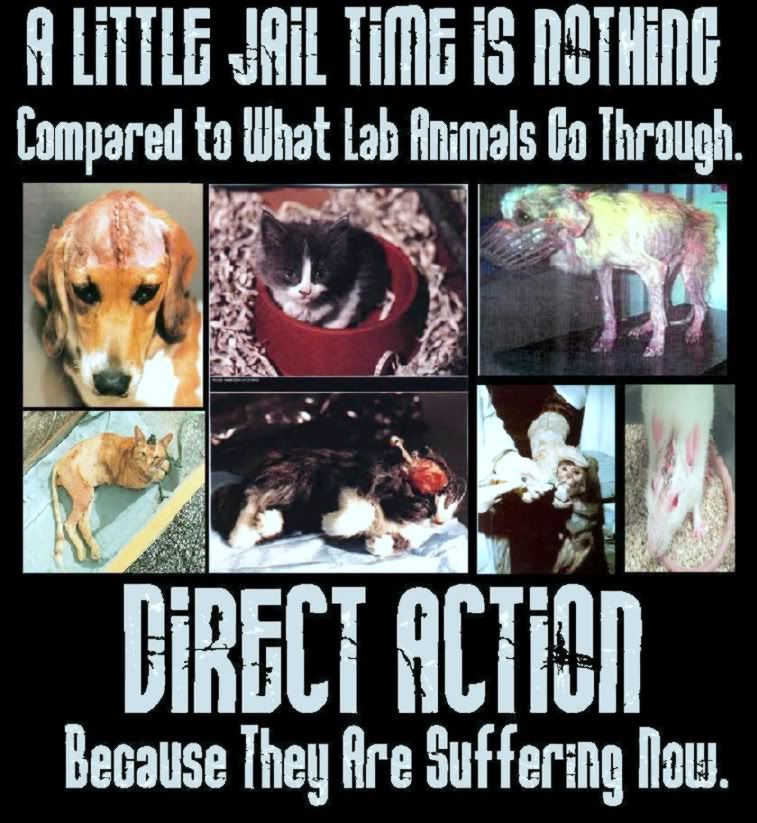 I pray everyday they feel no pain ever.
I had a rabbit that died a year ago named Diva R.I.P. This is exactly what she looked like.
Well cuz I can.
I have been wanting to for a quite a while. I always see my mom writing letters to magazines when they use Pony Fur.. or Fur of any kind in their magazine. I have been with her at many protests having our voice heard for the voiceless. My mom obviously is a huge influence to me in so many ways.
She "walks the walk, talks the talk" She never buys ANY products that have any animal products or have been tested on. Everything from Fake Leather to Tooth paste, her make-up and Food.
The shelters she volunteers at, I have distanced myself because I get so angry and full of hate at the ignorance and lack of attention these horrible acts against animals, and the carelessness that just isn't important to society as it SHOULD BE.
I get overwhelmed because I want to pick the right words, the few words that will say everything.
I'm not trying to preach, I'm voicing my opinion and what I think is right. I have sayed many times I don't judge people .. I try not to.. but if anyone I know disrespects, hurts, abuses, tortures any animal.. I have no respect for them PERIOD. I just don't. EVER.
I know some people just don't have that bond, I get it. Or where they grew up or their enviornment animals are seen as trade, grown for food, sport, or whatever the case may be.
My issue is how do you not have compassion? do people think animals have no feeling? or don't feel the same? same shit with Sea Life. It's like if something is moving we have to kill it?
In some of the blogs below I posted are just a TINY percentage of the mind blowing and horrific horrible unthinkable shit that goes on in this world.
I just want to stress to everybody that animals DO FEEL they aren't fucking with no feelings and emotions.. IMAGINE the very stress you would go through not being able to yell for help, Suffering.. Left to fucken die.. like.. how would you ever do that to an animal.. it's a living fucking thing, it has a heart, obviously moves so you think it doesn't feel? THEY ARE HELPLESS AND DEFENSELESS..
I truely think anyone who hurts any animal in ANY way shape or form is disturbed and a coward..
Many study's have shown that some traits of serial killers and abusers start with the way they were with animals.. IM NOT saying since fucken birth or toddlers .. cuz they don't know better.. I'm saying as they grow up.. There is so much people have no idea.. in what they eat, what they buy.. including Animal Testing ONE of the MANY horrific fucken ways these poor animals are subjected to..
case and point........
I get that animal testing has helped us evolve.. for well needed life saving treatments and cures. However.. when your TORTURING AND I CAN NOT STRESS THIS ENOUGH TORTURING ANIMALS for a fucken laundry softener? for your precious Fe breeze? your shampoo, conditioner, toothpaste? for a fucking lip stick?
"ANIMAL TESTED" isn't on alot of products, THE ONES THAT SAY "NOT ANIMAL TESTED" or "NO ANIMAL INGREDIENTS" is what you want to buy.. why? well take a look....
ANIMAL TESTING BY THE WAY.. DOES NOT MEAN IN ANY SHAPE WAY OR FORM THAT THEY SIMPLY RUBBED, SPRAYED OR PAMPERED THE ANIMAL LOL. THEY DON'T SPRAY THE END PRODUCT TO SEE IF THEIR FUR SMELLS GOOD AND SOFT? IDIOTS!
PEEP HOW YOU CAN HELP!
CLICK HERE FOR ALL INFO
An Overview of Animal Experimentation, Narrated by Actor James Cromwell
Other Viewing Options
"Ask the experimenters why they experiment on animals, and the answer is: 'Because the animals are like us.' Ask the experimenters why it is morally OK to experiment on animals, and the answer is: 'Because the animals are not like us.' Animal experimentation rests on a logical contradiction."
-Professor Charles R. Magel
As many as 115 million animals are experimented on and
killed
in laboratories in the U.S. every year. Much of the experimentation-including pumping chemicals into rats' stomachs, hacking muscle tissue from dogs' thighs, and putting baby monkeys in isolation chambers far from their mothers-is paid for by you, the American taxpayer and consumer, yet you can't visit a laboratory and see how the government has spent your money. You can't even get an accurate count on the number of animals killed every year because experimenters and
the government have decided that mice and rats and certain other animals don't even have to be counted.
Animal experimentation is a
multibillion-dollar
industry fueled by massive public funding and involving a complex web of corporate, government,
and university laboratories, cage and food manufacturers, and animal breeders, dealers, and transporters. The industry and its people profit because animals, who cannot defend themselves against abuse, are legally imprisoned and exploited.
Fortunately for animals in laboratories, there are people who care. Some of them work in labs, and when they witness abuse,
they call PETA. Thanks to these courageous whistleblowers, PETA's undercover investigators and caseworkers, who sift through reams of scientific and government documents, have exposed what goes on behind laboratory doors.